With just a week to go, it's impossible not to be infected with the 'Christmas Cheer'. Or is it? Through the years it seems the competitiveness and pressure, as with every other aspect of life, has come to weigh down a season traditionally considered one for celebrating the birth of a man who set all of mankind free. Though some continue the traditional festivities, for many people from all walks of life, the celebration of Christmas, whether by intention or otherwise, has become something else.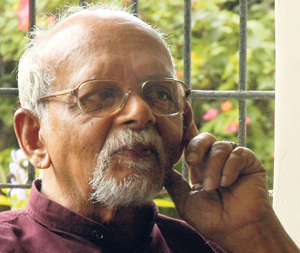 Prof. Ashley Halpe, now nearly in his eightieth year, recalls from the Christmas of his childhood, first and foremost the midnight mass. "We never omitted the spiritual element" he reassures, recalling how Jesus' "extraordinary self-sacrifice" was a constant example for his life, the "shattering challenge" he wrote of in 'Waiting for the Bells'. But another integral part of Christmas was "the fun of coming back from mass to see what Santa Clause had brought for us", and the joy of unwrapping presents. He remembers the Christmas cakes, rich and fruity, made at home, and all the "goodies and savouries" and the "feasting and merry-making" during the season. "We still do as much of it as we can" he continues, describing the decorations and ornaments that come out of their boxes each year in December, "but it depends on what's possible at that time", which part of the family is in which part of the globe and what their schedules are like.
A time when Christmas was not hectic was "a long, long time ago!" in his childhood, laughs Jerome de Silva. He describes in vivid detail the Christmas caro
ls "a must in every home, church and institution", the Santa Clauses everywhere with their rolling "ho-ho-ho" and the "large, towering Christmas trees everywhere!" from Colombo over half a century ago. "It used to be beautiful" he reminisces nostalgically, "a lovely era and so jolly!" The whole extended family would get together "for the chicken curry, the turkey, the smoked beef, the corned beef, the ham and all the other lovely things my mother made" he shares enthusiastically, proudly. Jerome's stories of the month-long preparation of Christmas cake, the Milk Wine after midnight mass, the breakfast next morning of German breads, Edam cheese and "vast quantities of strawberry jam", the walnuts, marzipan-filled dates and macaroons are simply mouth-watering. "In the evening we would bring in Jolly Bombs, sit around and light the thing up in the room and it would go BOOM and shower us with little presents and trinkets!" he laughs again.
A few years behind Jerome is Kanthini Fernando who has similar memories of extravagant Christmas meals and (literal) explosions in the living room. She also recalls, enthusiastically, "all these exotic fireworks!" the waterfalls, rockets and Catherine Wheels that "twirl, twirl, twirl" around the pol gaha. She laughs remembering visiting with "fascinating" aunts who wore their traditional Dutch Sunday-best with pearls and "entertained" them with cakes and tea, and standing in line to kiss their grandfather as he pressed money to their hands.
Chithrangani Wanigasooriya remembers growing up about the same time in one of the very few Christian families in the village of Eheliyagoda. "We couldn't afford a very extravagant celebration, but we did the best we could" she shares, describing how the chips in the walls were repaired and the house repainted as the season turned the corner. After the morning service, the five children would walk the village distributing kevili as is traditionally done for the Sinhala and Tamil New Year. "Everybody came over on Christmas day, and the house was continuously streaming with people!" Chithrangani recalls, almost in awe. Though the distribution of kevili has slowly been dropped, her family home is still open to all for the Christmas meal, after the morning service that the extended family continues to attend together.
But unlike for Prof. Halpe, the changes are more pronounced for the generation after his. With the rush of work and her children's commitments, the trip from Kandy to Eheliyagoda combined with last-minute shopping is a hassle for Chithrangani. In contrast to the joy of his childhood memories, the rat-racing and busyness of modern times inevitably leave him "absolutely exhausted by Christmas morning" as Jerome says – tired of the celebrations before they begin.
Rukshan Perera too remembers Christmases of feasting, family get-togethers and good times in general, but has made it something different for himself and his family, by choice. "We try to use the time to do things for people who need help" he says simply, describing carolling sessions at elders' homes and the cancer hospital. The festivities still prevail, "but now we're much more focussed on helping people who are unable to enjoy the season so well".
The community-centred-Christmas has trickled down to the generation after Rukshan's as well. Ranjan Josiah (47), once bassist for Flame and currently involved in community development, takes a similar perspective on Christmas. While his family still enjoys the festivities, they also spend more time looking for ways to make life easier for families not as comfortable as they. "When I was young, the highpoint was Santa Clause. Now, even when you go to a supermarket you can't help but notice the despair on people's faces", and he finds it difficult not to want to change that.
For Savithri Sumanthiran, General Secretary of FOCUS (Fellowship of Christian University Students), Christmas in Kandy in the 1970's was a "fun time" when all the family came together at her grandfather's house. "My mum used to make the traditional Christmas cake, and although it was not over the top, the meal was special."
The violence of the late 80's, when Savithri was an undergraduate, drastically changed her view of the festivities. "We called for fasting and prayer on the day, and then slowly figured there's no exhortation in the bible to celebrate the occasion at all!" Her three children and the families of many of her Christian friends from her undergraduate days, have since, never had a Christmas tree or presents. "I drop my older kids off at church if they want to attend on Christmas morning, but neither my husband nor I attend unless it's a Sunday" she says gently. "Some believe we simply need to cut the ostentatiousness and make Christmas a spiritual exercise rather than an extravagant festival, but we take the rather extreme view and abolish it. It's a difficult thing to do, and nearly impossible to pass on" she continues, adding that she and her husband are firm in their conviction nevertheless.
Thrice Olympic swimmer and fifteen-times SAF gold-medallist Julian Bolling reiterates that Christmas time at his home when he was growing up, was a time of too much food. The extended family came together and Julian remembers looking forward to sending up hot-air balloons. "We still have the family breakfast and lunch" Julian shares, "so the next generation has the same kind of Christmas". The only thing that has changed about for him is that he doesn't attend church. "It's not to say I've lost my faith, I search God out and I find him, just not there" he says, confidently.
Shanila de Livera, 32 year-old entrepreneur at Zsa Zsa Gallery, too, remembers the
balloons as well as the feasts of turkey, potatoes and cranberry sauce that began at lunch and went into dinner. For her, this Christmas is different from all others. A few months ago she gave birth to her "first-born son" Rayaka. "It really put things in perspective for me," she enthuses, amazedly. "I keep wondering how difficult it must have been back in the day when Jesus was born, if in the midst of all this luxury the birthing process was so difficult for me!" Even before her son was born though, Christmas had changed from being about Santa Clause to being about Jesus and the remembrance that "no matter how much garbage you've picked up over the year, He is able to forgive you that."
But from the thoughtful deliberations of the middle-aged generation to the hectic lifestyles of today's youth, is a wide jump. Eshantha Peiris' schedule over the last few weeks has been chock-full of carol services, school Christmas programs and SOSL events, at all of which he is found in a professional capacity. "Nowadays, I really don't know what we will do" he says in quiet abandon. "When we were in school, there was all the hype and the holiday fun, the family getting together for a good time and all that" says Damien Fernando from Voice.Print, "but now you're so busy you don't have time for any it!" Even for those not caught up in the limelight, Christmas is becoming another hectic season. Undergraduate Shalini Abayasekara still makes date cake at home with her mother and grandmother, but is quite caught up in carol services and youth activities happening through the month. Ultimately for her though, "It's about Jesus of course and how He came to save me".
Talk against the commercialization of Christmas is common, and regret at busy lifestyles that only get worse during the holidays. But where do we find the time or energy to even consider a change, if that is in the calling? What are you doing this Christmas?